LAHORE: (Saturday, September 9, 2023): The Anna Molka Awards for the year 2023 were announced at Punjab University College of Art and Design. The award distribution ceremony was followed by an exhibition of the works of the artists who participated in the contest. The soft launch of the book 'Anna Molka, An Artist, An Educationist and Art Critic' by Zarar Babary also coincided with the event. PU Vice Chancellor Prof Dr Khalid Mahmood, College of Art and Design Principal Prof Dr Sumera Jawad, faculty members and a number of students participated in the events.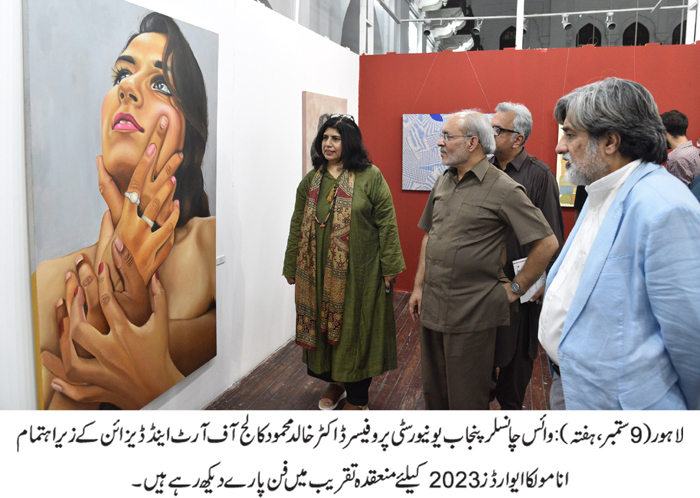 The curator of the exhibition Sumbal Natalia said 'For this year's award, we received over 160 entries from all over Pakistan, including Gilgit-Baltistan. Out of these entries, we had to shortlist 50 entries for 20-40 years category and over 12 entries for the above 40. The winner in the above 40 category this year was Mughees Riaz. While the honourable mentions in the category were Attia Shaukat, Bashir Haider, Rabiya Asim, Dr Samina Zaheer and Nayyar Shehzad. Mughees Riaz's award winning artwork was oil on canvas, depicting a buffalo as animals have become almost a hallmark of his works along with birds and local characters. Sadia Rathore from Balochistan won the award in the 20-40 category. Her oil on canvas artwork was titled, Bekhabian, Afsanay, Mehtab, Tamanaen. The honourable mentions in the category of 'above 25' were Asif Kasi, Fahad Tariq, Aiman Jaleel, Mahnoor Hasan Khan and Hafsa Munir. Four jurors who selected the winners were Amna Patodi, Jameel Baloch, Uzma Waqar and Amna Jamal.
PU VC Prof Dr Khalid Mahmood distributed the awards. Addressing the ceremony, Prof Dr Khalid Mahmood said artists carried unique abilities and Anna Molka would also be remembered for the services she rendered in the field. He said that it was very difficult to express certain feelings through art and due to particular abilities, artists reflected our social and cultural values through their art in a unique way. Dr Sumera Jawad gave a background to the college and Anna Molka Ahmed's contribution in laying its foundation and then making it successful. She said the college was founded in 1940 when Anna Molka was a young woman and she continued serving it for the coming decades until the 1970s. She said in 1947, only two students were left behind as all Hindu and Sikh students migrated to India. She said Anna Molka wanted that art to be taught in Urdu at the college, that's why Babari's book on her was also bilingual. While remembering Anna Molka Ahmed, Dr Ajaz Anwar said her biggest contribution was to open a fine arts institute at the Govt. College Lahore (now GCU). Asghar Minhas was the first student of fine arts at the Govt. College Lahore. Asghar Minhas was hired at the Govt. College as a lecturer and retired as a lecturer, never demanding a promotion. He was hired for six months but he did not get pay for the next six years. Miss (Molka) Ahmed had asked him not to quit as after him the fine arts department at GCU would end. He said there were few artists who were sculptors as well as painters and Anna Molka Ahmed was one of them. Shahnawaz Zaidi, Mr Zarar Babary and others also spoke on the occasion.